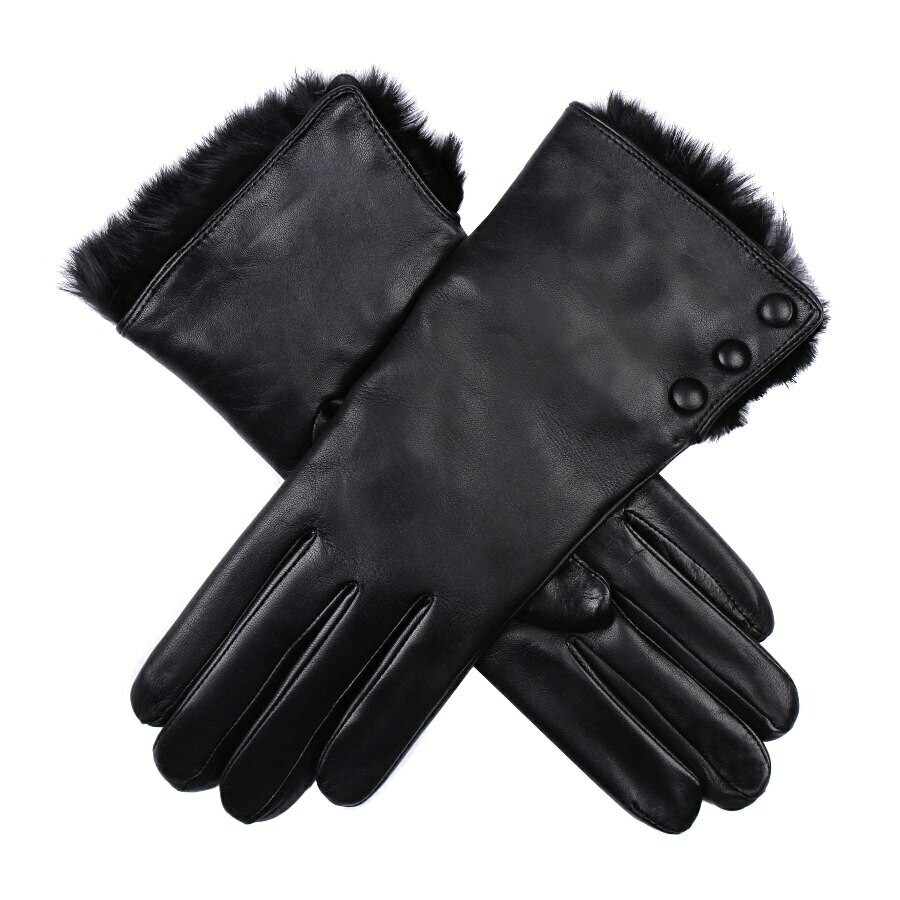 Long Length Button and Fur Gloves by Dents
SKU 9581 Black
Product Details
- Fine Leather
- Side Vent
- Leather Covered Buttons
- Optional turnover cuff with fur lining
- Pure Wool Knit Lining
About Me The ultimate pair in luxury. Dents have been making fine leather gloves for more than 240 years and these gloves are the ultimate luxury of the collection. Crafted from hairsheep leather and sewn in Czech Republic, these fine gloves feature a stylish 3-button trim and optional turnover fur cuff (wear it tailored as per the photo, or fold the cuff for another sophisticated look). These gloves features a pure wool beige knit lining for extra warmth. Important Note: It is not advised to wear rings with these gloves due to the delicate nature of the cashmere knit lining.


What is hair sheep? Hair sheep is an animal which grows hair, not wool, hence its name. The fine hair leaves no granular markings resulting in smooth nappa finish and feel. Favoured for its natural strength and elasticity, hairsheep leather is generally acknowledged as the best leather for gloves. Durable and supple, this is an excellent choice for lasting comfort.
Fabric Outer Leather, Inner Fur and 100% Wool

Your Glove Size If you are not sure about your glove size, measure the hand you normally write with at its widest point in inches (excluding the thumb), then round down to the nearest half or whole number - this will be your glove size. Glove sizes come in half and whole numbers, between 6H and 8H for women. For example if your hand measures 8H inches around its widest point (excluding the thumb), your glove size is 8H (Note: one inch = 25.4mm).


Small (7)
Medium (7H)
Large (8)
X-Large (8H)
Approx. Circumference
of Dominant Hand (cm)
16cm
17cm

18cm
19cm
How to Look After Me Please follow the care instructions on the inside label. For best results, please store flat.
---
About idyl - Easy wear and easy care is our focus. We have been creating styles under our own unique label in Melbourne for more than 20 years, specialising in natural fibres such as linen, cotton and pure wool. The casual styling and easy-to-care-for nature of our garments are designed to complement all shapes and sizes and will become part of your wardrobe favourites. We invite you to browse through our idyl collection of tops, pants and shirts which are available in an exciting range of bright colours and classic shades and are all made in Melbourne. We extend our collections in store by stocking a wide selection of well-known and quality labels specialising in clothing, knitwear and fashion accessories.
---
About Dents
The story of Dents began in 1777, when John Dent established himself as a master glove maker in the cathedral city of Worcester, England. Today, centuries-old traditions of craftsmanship, quality and the most exclusive leathers flourish in Dents' English factory and underpin the worldwide reputation of their glove.
---
How To Care For Your Gloves
If your gloves get wet, allow them to dry naturally and away from any external heat source, such as a radiator, hair dryer, or the sun.For heavy soiling, we recommend the services of a specialised leather dry cleaner. If the soiling is light and not dried in, you may try the following:
1. Prepare a hand hot solution of soft soap flakes such as "Lux".


2. Gently sponge down the outside leather of the gloves with this solution.
3. Try not to saturate the leather and dab off any excess wetness with a clean dry cloth.
4. Allow the gloves to dry naturally and do not use any external heat source such as a radiator, hair dryer or the sun.
5. As the gloves are drying, put them onto the hands of the wearer several times. This will help to stretch the leather and restore the shape of the gloves to the profile of the hands.

If you decide to use a proprietary leather cleaner or conditioner, please read the product instructions carefully, and be sure the product you are using is suitable for your glove leather.
Save this product for later