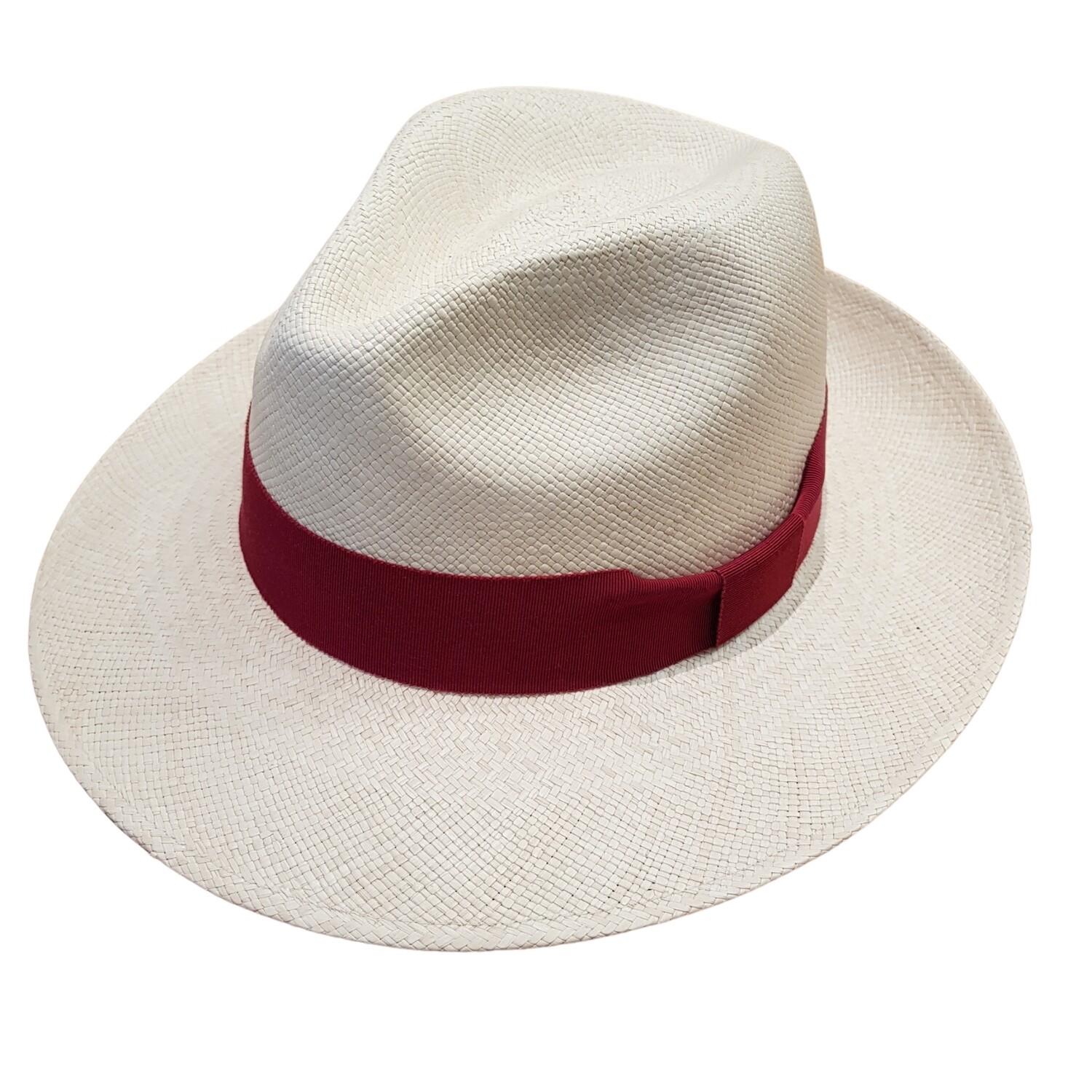 Genuine Classic Panama Hat
SKU 9950 Natural/Red Band
Product Details
- Genuine Panama, hand made in Ecuador
- Pinched internal crown lining for extra strength
- Brim width 7cm to provide excellent sun protection

About Me One of the finest genuine panama hats available. Featuring a refined black grosgrain band and stripe tab detail, welted brim, internal khaki sweatband and pinched internal crown lining for extra durability, this luxurious hat will become a treasured favourite.
Fabrication 100% Paja Toquilla (Palm Fibre, a natural straw)

Key measurements for sizing
Use a tape measure to measure your head firmly at the widest circumference point which is usually at the centre of your forehead. It is important to measure your head for a panama hat as the hats are sized to specific measurements. Fitting your head is not a guarantee of a perfect fit.

| | | |
| --- | --- | --- |
| Hat Size | Circumference cm | Circumference inches |
| S | 56-57 | 22 |
| M | 57-58 | 23 |
| L | 58-59 | 24 |
| XL | 60-61 | 25 |
How to look after me
Cleaning instructions are provided with the hat including instructions on how to remove wrinkles, storage and advice on "not what not to do". Natural straw hats need moisturising, but not the moisturiser we use. To keep a panama hat supple and in best condition, it needs steam. You could store the hat occasionally in the bathroom or a humid environment or carefully rotate it over a boiling kettle every so often, or even give it a light spray of water (no running taps please!).
---
The Story of The Panama Hat
An authentic Panama hat is handwoven in Ecuador. It was born from an art form that originated there many centuries ago. One of the oldest pre-Columbian cultures in American, was the Valdivia cultures (3500BC to 1800BC). The Valdivia discovered a material so light and flexible that it was ideal for weaving into Tocas (a fine cloth) which they used to protect their heads from the tropical climate and strong rays of the Equatorial sun.
Today, Panama hats are made in exactly the same way, from leaves of the Toquilla Palm (Carludovica Palmata) and are well known for their fineness of weave, strength and lightness. The process can take up to 6 months, according to the qaulity of the weave. This is a millinery tradition that has been passed from generation to generation in this great community of master artisans.
Panama hats first came to the attention of the world when the workers of the Panama Canal took them back to Europe in the early 1900s. The hats were an immediate fashion sensation and ever since they have been known as "Panamas".
This genuine "Camilo" Panama Hat will become one of your more treasured garments.

---
About idyl
Easy wear and easy care is our focus. We have been creating styles under our own unique label in Melbourne for more than 20 years, specialising in natural fibres such as linen, cotton and pure wool.
We extend our collections in store by stocking a wide selection of well-known and quality labels specialising in clothing, knitwear and fashion accessories.
Save this product for later